Binay LED- BASED WARNING LIGHTS, ALARM LIGHTS, AND TOWER LIGHTS


Binay LED Warning and Alarm Lights are characterised by extremely low power consumption and high resistance to shock and vibration, apart from their maintenance-free aspect (achieved as a result of solid-state light emitting diode technology)

Binay LED-based Warning Lights have a normal life of 100,000 hours, or 11 years calculated on a con-tinuous burning basis. As a result of the solid-state LED construction, they are vibration-proof and shock-resistant, thus making them ideal for use on vehicles, machinery, and moving objects. Binay's pat-ented electrical circuit design enables extremely low power consumption in contrast to conventional fila-ment or gas discharge lights (which have a power consumption of 50 to 100 watts or more). Electric Flasher circuits can also be provided.

These LED Warning Lights are available in various light intensities (rated in millicandelas or mcd) and can be designed for any voltage rating from 6V to 415V AC. They come with a free-replacement guar-antee of three years (from the date of purchase) against operational failure.

Two basic models of Warning/Alarm Lights are available: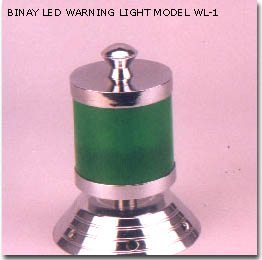 BINAY LED WARNING LIGHT MODEL WL-1

(Dimensions - base diameter 182mm; lens. di-ameter 120mm; height 215mm):

This model has either 240 or 120 LEDs of 250 mcd each, and is available in 6V, 24V, 110V, 240VAC or 415VAC in red, green and yellow colours. The base is of die-cast aluminium. The dome is made of hard weather-resistant plastic, and the unit can be used outdoors as it is designed to meet IP54 requirements. Dielectric strength is 2KV for 1 minute; insulation resistance 50 megohms at 500V DC.

This type has been found suitable for applications such as warning lights at Railway crossings, moving cranes, alarm indications, etc.

Blue and pure white colours are also available. Flasher units are available to provide a flash func-tion for the Warning Light.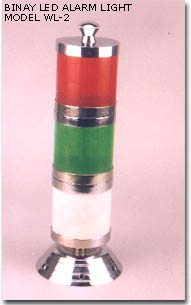 BINAY LED ALARM LIGHT MODEL WL-2

(Dimensions - base diameter 106mm; lens. di-ameter 70mm; height 139mm):

This model has 60 to 100 LEDs, depending on the colour. It is available in standard voltages of 24VAC/DC and 110VAC in red, green, yellow, or-ange, blue and pure white colours. The body is of chrome-plated brass, with a semi-transparent tu-bular acrylic cover. The body can be fitted to any support by means of the mounting holes on the base.

A flasher unit (available separately) can be added to provide a flash function.

This type is suitable for use as a machine failure alarm, where visibility is required over short dis-tances.

BINAY LED TOWER LIGHT

The Binay Tower Warning Light is basically similar in physical construction to the Model WL-2 Alarm Light (as described above). It essentially consists of separate WL-2 units stacked one on top of the other in a modular form. Modular units in red, green, yel-low, orange blue and pure white colours are avail-able, in voltage ratings of 6V, 12V, 24V, 48V, 110V AC/DC, and in 220VAC or 415VAC.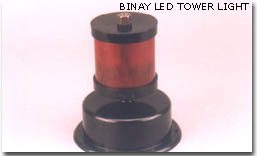 An Audio Module is also available (specify volume intensity desired - high or low).

Note: All dimensions are approximate and are subject to change without notice.